"I went from being a personal trainer to making 4x my salary (every week) as a private jet broker with VOMOS!"
Rob B.
"Becoming a private jet broker with VOMOS has given me financial freedom and the ability to fly my family and friends private for free!"
Joi H.
"I am now closing on average 8-10 jet deals a month in my third year with the average margin on each deal giving me around $2-3k"
Dhameer B.
Introducing The Proven Online Program
The Secrets To Becoming A
Private Jet Broker
Learn how to break into this multi-billion dollar industry that is growing year on year, with great ROI and low competition, and create a 7-figure profitable business and steady revenue stream in just 30 days
Our entire proven business system delivered to you in a 16-part high-quality online program supported with valuable downloadable resources worth over $5000.
These are the exact resources that we use in our business daily!
In This Exclusive Program You Will Discover How To:
 Position and promote your business with ease using digital marketing, press, PR strategies
 Deliver a white glove service for your VIP clients and set yourself apart from the competition
 Find your clients and build your client base from the ground up
 Structure the business for profit so you can make a seven-figure income
 Build a team of motivated individuals to you grow your brand and business for you
JOIN THE PROGRAM NOW!
Enjoy Being Part Of An Elite Industry That Gives You Freedom And The Ability To Travel And Work From Anywhere In The World

The Private Aviation Industry has seen a boom in recent years, thanks to popular culture promoting the celebrity lifestyle and the flexibility of flying on your own terms, avoiding crowded airports and busy commercial planes.
The pandemic has further boosted the industry, as more people opt for private aviation due to health and safety concerns.
However, hiring a private jet can be a confusing and frustrating experience, due to the wide variety of pricing, the different processes or even just knowing where to start.
Here is where YOU can help!
Customers want a trusted advisor who is consistently able to ensure they get the best deal and provide a seamless experience.
Welcome, we are VOMOS, the proven industry leader and top private jet broker firm in the US with more than 20 years of experience in private aviation.
Our goal is to share our secrets and train as many people as possible to become Private Jet Brokers so you can create a profitable business and steady revenue stream from a much needed service and become part of this multi-billion dollar industry.
Imagine traveling the world with just your laptop and cellphone without being tied to an office or huge staff and payroll.
This is what true freedom is all about!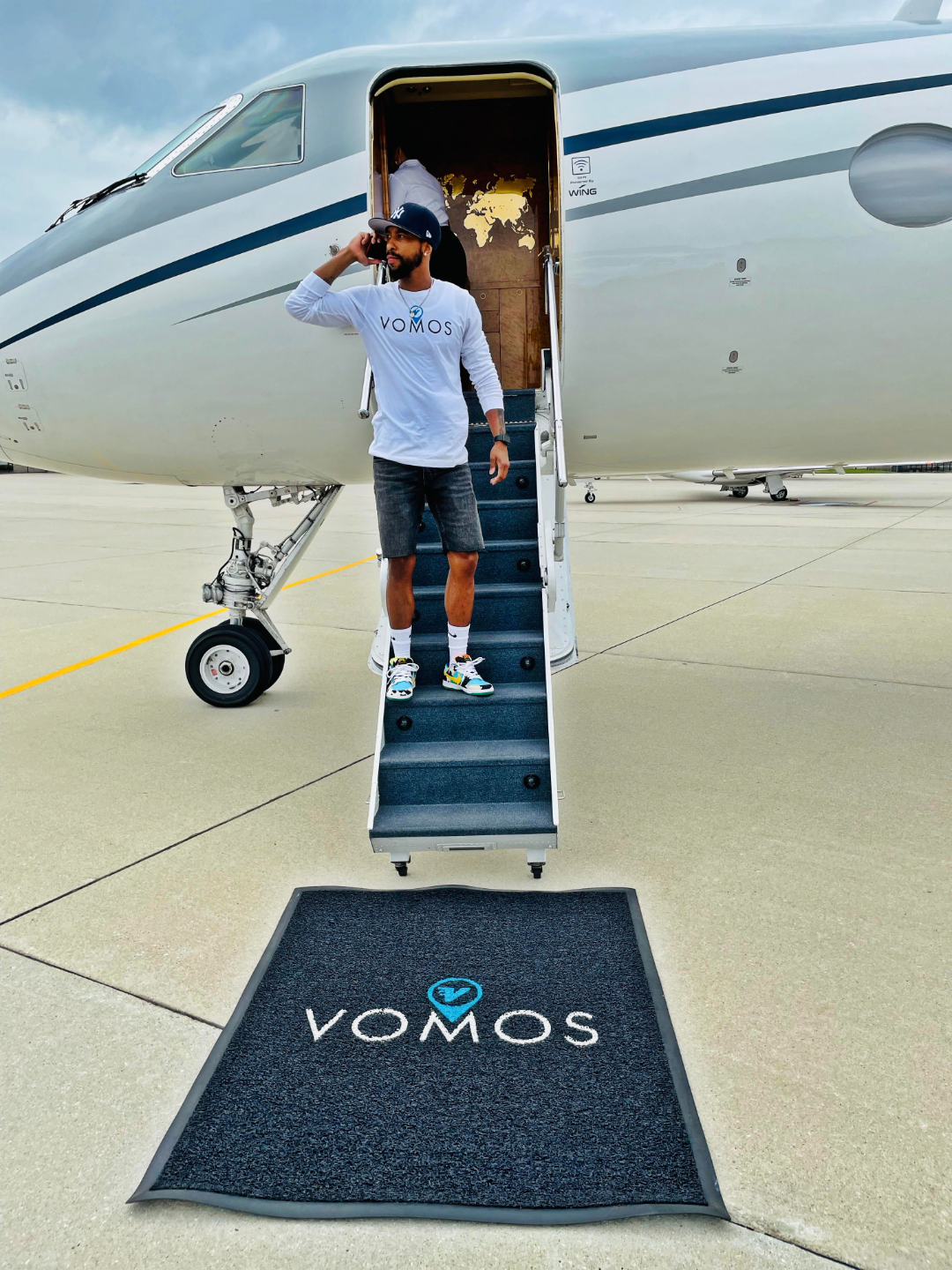 VOMOS Your Expert Partner
We have served over 25,000 passengers on private flights internationally including executives, celebrities, athletes, and global citizens for almost 2 decades. 
We have an unrivalled industry reputation and are long standing members of the industry trade associations and relevant industry bodies.
If the video above doesn't show then click the Cookie Consent button in bottom left-hand corner of the screen and press 'Accept All'
OUR TRUSTED & PROVEN STRATEGY
When we first started in this industry, we struggled to find the right aircraft operators to handle our requests, at a reasonable price and on time.
After years of research and trial and error, we have developed the fool-proof strategy to becoming a successful private jet broker - a strategy that means we receive 100+ client requests per day for our services - with minimal advertising!
There's so much demand that we're unable to handle it all ourselves.

That's why we've decided to share our proven process with you, to help you break into this booming industry and create a new 7-figure income stream for yourself that is highly profitable, reliable and low risk.

BOOK A CALL
 Enjoy instant access to our entire business system:
Domestic And International Private Jet Travel
Types of Private Jets Available for Charter
Best Practices to Sourcing Private Jets
Private Aviation Rules and Regulations
Sub-Brokers and Referrals
Developing Business Credit
Mechanicals and Cancellations
Ground Transportation and Catering
Meet Some Of Our Students
They are entrepreneurs (just like you!), who set up their private jet charter business using the VOMOS proven roadmap:
Rob Brown
★★★★★
"I was working as a personal trainer looking for something more when I heard about this. The VOMOS jet brokering process is seamless and you'll see revenue shortly after. It's amazing to be able to say, "I've made four times my salary this week!". I am REALLY excited about my future as a private jet broker, specifically with VOMOS. I closed 22 jet reservations, totaling over a half-million dollars in sales, in just 7 months!! Exciting times are ahead!!" 
Dhameer Bradley
★★★★★
"I decided to explore the VOMOS jet brokering opportunity, I quickly discovered I am great at finding the best solution for the best price to make my clients rave about my products and service. Once I closed my first deal I knew this was for me. I am now closing on average 8-10 jet deals a month in year 3 and with the average margin on each deal giving me around $2-3k - this is a massive income boost for me." 
Joi Hilton
★★★★★
"I completed the VOMOS Private Jet Broker course in about a month and was off sourcing jets for customers in no time! As far as my income is concerned now, I am extremely happy and I know ultimately it will exceed my expectations! I am so excited about my future as a VOMOS private jet broker. Working in this industry allows me to not only have financial freedom, but to also curate amazing travel experiences for others that I can create for myself, friends, and family!" 
Chung Taeseung
★★★★★
"After growing tired of working for others, I wanted my own business, so I had no hesitation when I discovered the VOMOS opportunity. The mentorship program and online course are invaluable, offering real guidance and practical help. I highly recommend it to anyone interested to join. Thanks to VOMOS, I'm confident in my future and realizing a 7-figure lifestyle!" 
Maureen
★★★★★
"A few years ago I unexpectedly found myself unemployed with a newborn when I came across this opportunity to become a Jet Broker, and have since totally regained my life, time with my husband AND children. This industry which I previously knew nothing about is nothing short of amazing! Thank you so much VOMOS for teaching me this skill set and changing my life forever!"
THE SECRETS TO BECOMING A PRIVATE JET BROKER
 16 comprehensive modules of high-quality online training videos ($8,000)
 Resource pack of valuable downloads such as
scripts, guides, templates and checklists ($3,000)
 Assessments after each module ($1,000)
 An invitation to join our "after the course"
community (Priceless!)


Total Value: $12,000
YOURS TODAY FOR JUST
$2,997 USD
★ LAUNCH BONUS ★
To fast-track your success with this course, as a bonus for joining the program now we'll include"
 Our exclusive Vetted List of Private Jet Operators ($1,000)
 Our Jet Broker Customer Contract ($3,000)
 Our Deal Flow Script which is a step-by-step
detailed look at a private jet broker deal ($1,000)

Total Value: $5,000
YOURS TOTALLY 
FREE
This resource pack alone will give you the head start we wish we had when we started VOMOS!
★ 24 HOUR FAST-ACTION BONUS ★
Sign-up In the next 24hrs and get a free exclusive access
Special Bonus:
60-Day Mentorship Program
As part of our mentorship program, you'll get twice-monthly live Zoom training & Q&A sessions with VOMOS coaches to help you set up your business from start to finish, and beyond!
You won't be alone on your journey, we will be with you every step of the way. 

Total Value: $3,000
AND YOURS TOTALLY 
FREE
WHEN YOU SIGN UP IN THE NEXT 24 HOURS!
(Please note that only those that join the program within 24 hours of signing up to the webinar will be invited into our mentorship program)
SAVE 75% BY SIGNING UP TODAY
OVER $20,000 WORTH OF VALUE!
YOURS TODAY FOR JUST
$2,997 USD
 The Secrets To Becoming A Private Jet Broker program worth $12,000
 Special launch bonus resource pack worth $5,000
 Special 24-hr fast track bonus access to our 60-day mentorship program worth $3,000
 
That's far less than the average charter commission, which means you will pay for your course (or save the equivalent) when you next book a private jet for yourself or your client - talk about instant ROI!
GET STARTED TODAY
Introducing Our 100% Risk Free Guarantee!
At VOMOS, we believe in empowering our customers and are so confident in the transformative power of our online program that we offer you an ironclad 100% Risk-Free Guarantee. We want you to embark on this journey with complete peace of mind, knowing that your satisfaction is our top priority. 
We encourage you to enroll in our online program and explore all its valuable resources. Immerse yourself in the knowledge, guidance, and support it provides. 
If for any reason, within 5 days from your enrollment date, you find that our program doesn't meet your expectations, we've got you covered. Simply get in touch with our friendly customer support team, and we will promptly process a full refund - no questions asked.
This Is For You If...

 You believe in 'working smarter, not harder'.
 You already own one or two successful ventures but you're currently looking for an additional reliable and profitable income stream, that has guaranteed ROI.
 You are fed up of not being able to find new business opportunities that have big growth and profit potential, without it requiring a huge investment from you.
It is our mission to empower you to create success in this unknown industry so that you can transform your life for the better.
ARE YOU IN?
REQUEST MORE INFORMATION
Frequently Asked Questions
Why is the program priced where it is?
Do you accept payment plans?
If I purchase the course and need VOMOS' assistance while I scale up is that something that's possible?
I know of a few others that may be interested in this course. Do you offer affiliate programs?
So, are you in?
Are you ready to:

 Easily add this new predictable low-risk revenue stream to your existing business, to serve your existing customers?
 Join one of the most lucrative and rewarding industries around?
 Experience true financial and lifestyle freedom?
Join us today and get instant access to everything you need to create a successful private jet charter business, results guaranteed!
BOOK A CALL